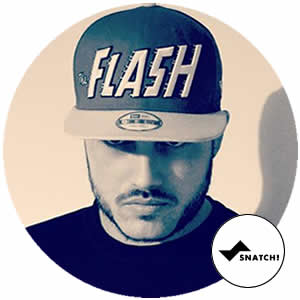 ASTIN (Snatch! Rec / Inmotion Music / Orion)
Giulio aka Astin was born in Naples, 12 years later he moves to Caserta where start his love for the music listening a grunge group, "Nirvana". The adolescence music drives him in the hip hop direction, and it is still in his music today.
In '99 Astin goes in touch with House and tech house music, he goes to club in Campania and starts to playing in that club
In 2007 he moves to bologna, where he knows new places and he appreciates new kinds of music like minimal continuing to look for his music style.
In 2009 he releases his first ep whit Paked Music in Madrid, in the same year he become notorious playing in the most famous club of bologna, Cassero, Kinder Garten, RedRum,The Club, Doc Show.
The 2009 is an artistically important year, he and his friend/partner Davide Napolitano develop an important project, believing in themselves and in their ability, they create its own label Vinyl and digital by the name "Hustler Muzik", it is a mixture of old and new sound that feeds on tech-house and techno.
In 2010 Astin starts really artistically to grow up, goes out from bologna, he making a name thanks to his music in Rimini and Riccione where he playing in club like Classic Club, nowadays one of the most important after party in that area.
In the same years he starts a new adventure whit some friends, it is still a young project, but it has good purposes, an after party (from years there isn't it in Bologna) his name is "Wake up". Thanks to Wake up Astin has more visibility.
in 2013 Astin is taken into account by the famed Riva Starr's label, Snatch! Records, which has produced artists such as Carl Cox, Dj Sneak, Fat Boy Slim, Ramon Tapia, Pirupa, Leon and the same Riva.
Now Astin is producer for Snatch! Records, Hustler Muzik.
DOK DATES:
– 14  December 2013 – DOKSHOW @ Numa (BO)
– 18  April 2015 –
DO

K
SHOW @ Numa (BO)