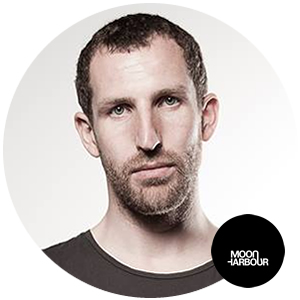 MATTHIAS TANZMANN (MOON HARBOUR / DC-10)
Matthias Tanzmann started his DJ and production career in the mid nineties in Leipzig, playing regularly at the renowned club 'Distillery'. These early days saw his first release as 'Gamat 3000' (with Daniel Scholz) on Dessous Recordings, which was quickly followed by releases on Freude Am Tanzen, Lo-Fi Stereo and FM Musik.
In 2000 he founded Moon Harbour Recordings, and since then scores of Moon Harbour releases have been playlisted by renowned DJ's all over the world. The label rapidly became synonymous with quality deep-house and tech-house, and has released many of Matthias Tanzmann's own records as well as those from the likes of Luna City Express, Marlow, Martinez and Dan Drastic. In 2006 he founded the label Cargo Edition, where you can find regular releases from Michael Melchner, Ekkohaus, Markus Schatz, Sven Tasnadi, Vera and Juno6.
The success of both labels has seen the explosion of Matthias Tanzmann's DJ career, which now takes him almost continuously around the global club and festival scenes. Another factor in his success has been his residency at the famous party series Circoloco at DC10 in Ibiza since 2007. Playing regularly on both the Balearic Isle and at international Circoloco shows has resulted in 3 consecutive nominations at the Ibiza DJ Awards.
Between his numerous DJ gigs, Matthias Tanzmann also produces consistently ground-breaking music. In addition to a line of singles, his first solo album "Restless" was released on Moon Harbour in 2006, and beyond that his remixing skills are also in great demand – remixing for artists such as Moby, 2000 and one, Josh Wink and Booka Shade to name just a few.
Fin dal 1997 è stato resident DJ al Distillery e per più di una decade ha animato la vita notturna di Lipsia, Matthias non ha mai amato i compromessi ed è per questo che sin da quando ha iniziato la sua carriera, suonando nei più esclusivi Club della Germania dell'Est, non si è mai curato troppo delle mode o delle tendenze momentanee, proponendo solo e sempre il suo stile: una miscela che nasce combinando le vibrazioni della deep che si possono percepire tra l'House e la Techno.
La fine degli anni '90 segna indelebilmente la svolta della carriera di Matthias. Infatti fonda, con Daniel Scholz, la Gamat 3000 Recordings, presentando parallelamente produzioni su etichette come Dessous Recordings, Freude am Tanzen e FM Musik, giungendo all'apice con la hit "Feeling Love" nel 1999.
Il passo successivo verso il suo grande successo viene concretizzato con la creazione della Moon Harbour Recordings, etichetta che si propone come piattaforma di lancio di artisti talentuosi del panorama house. Il nuovo millennio vede il debutto dell'artista in versione solista con l'e.p. "Rose Garden" che lo conferma definitivamente nel panorama internazionale, successo consolidato poi dall'uscita nel 2008 di "Restless". Dal 2007 Matthias è resident presso il famosissimo party CIRCOLOCO al DC10, grazie al quale si esibisce sia nell'Isla Blanca sia in tutti i party firmati Circoloco a livello mondiale con grande successo ed approvazione di pubblico e consolidando il rispetto a livello internazionale da parte di tanti illustri colleghi, producendo tra i tanti, remix di brani di Moby, Josh Wink e Booka Shade per nominarne solo alcuni..
DOK DATES:
– 14  December 2013 – DOKSHOW @ Numa (BO)