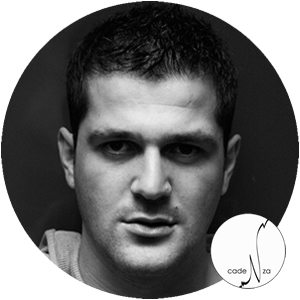 ANDREA OLIVA (Cadenza)
From hearing music as a 13 year old to the front door of Luciano's Cadenza Records
The journey of Andrea Oliva from first hearing music to becoming a fast rising DJ Talent is an organic one, from hearing music as a 13 year old to a 16 year old learning to DJ and working in a record store. As he began to build a collection of the most upfront promos and white labels from Europe and beyond, he soon secured bookings at Switzerlands top clubs leading to residencies at Terminus, Pravda and Pacha Zurich and soon led him to the front door of Luciano's Cadenza Records.
Andrea's love for music saw him team up with local club kid and owner of Basel's Nordstern, Agi Isaku, as they threw sold-out 'Banditz' parties across Switzerland. His reputation soon took him across the continent and all the way to Ibiza when he was first invited to DJ at Space and debuted his first release in 2004 on Swedish imprint Joia Records. As he began to forge a sound, he started releasing tracks on Viva Music, Saved Records, Be As One, Hideout, Moon Harbour, Soweso and Cadenza.
Both Andrea's 2012 releases, 'Click Off' EP (Cadenza) and 'Scene' (Be As One), saw him break into the Beatport Top 10 downloads chart which led to Andrea being the most charted artist on Resident Advisor in February and March last year, where some of the biggest DJ's in the business are playing and charting his music.
2013 was Andrea's most successful year to date as he launched his summer residency at the place that changed Ibiza, as we know it today, 'Ushuai¨a Ibiza'. He played out to the masses at the venues hottest new underground party 'ANTS'. He also topped the Beatport charts with his remix of Luciano's 'Rise Of Angels' which was known as the ANTS summer anthem and spread like wildfire across the whole island of Ibiza as well as being one of Cadenza's biggest selling records to date.
The summer of 2013 in particular saw Andrea Oliva play over 70 gigs in the space of three months, including his ANTS residency, which began and finished the season as one of the most successful parties on the island. The residency was something Andrea was a part of not only as a headlining DJ but he was very much involved with the musical direction of ANTS and could 100 % identify with the ANTS philosophy of throwing a party. Highlights of the season for Andrea are too many to name but one, although, certainly playing at some of the worlds best venues, parties and festivals across the globe alongside and back to back with close friends has been a highlight for Andrea.
We are to expect an even bigger 2014 from this fast rising star as he returns to his ANTS residency whilst continuing his monthly residency at Nordstern and will be warming up this winter with a residency at Italy's infamos Cocorico. To add to the extremely busy schedule, there are also releases expected to drop on Be As One, Saved, Nordstern Music, Defected, Objektivity and Mobilee records in 2014 and he certainly won't be stopping there.
DOK DATES:
– 18  January 2014 – DOKSHOW (K-STARS) @ Numa (BO)