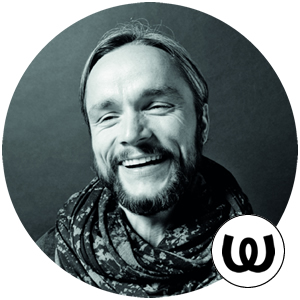 MARCO RESMANN (Watergate Berlin)
Back in the mid-90s, Marco Resmann took his first stumbling baby steps behind his two Technics decks and DJ mixer. The maelstrom of techno and house had already taken hold of Marco, first from tapes and radio, and then in clubs and the famous annual Loveparade. His hometown Berlin – the whole of Germany, actually – was in a state of anticipation, and he was happily right in the midst of it. There was so much to discover: every centimeter of this new magical, musical universe had to be uncovered, measured and tried out. The first drum machines and synths, the first self-produced tracks, the first parties – everything was intense and new. The world was set on fast-forward with the bass drum as its constant pulse, laying the foundation for Marco's professional career. Whether as a DJ or producer, he was constantly gathering knowledge and refining his skills, never following a master plan, but rather simply following his passion and personal convictions. Chuck Roberts once proclaimed, "House is a feeling," the meaning of which was certainly not lost on Marco: it changed his way of thinking, and house music would become the soundtrack of his life.
One of Marco's earlier projects stemmed from a chance meeting at a New Year's Eve party into the new millennium, where he first met Norman Weber. They quickly realized that they were on the same wavelength, with the same songs putting sparkles in their eyes and inspiration in their minds. They began to DJ together and spent many long, sleepless nights in the studio until the fruit of their partnership had a name: Luna City Express. By 2005 Marco had gained enough momentum to turn his passion for music into a professional career. The duo formed an alliance with Moon Harbour Recordings, becoming a flagship act of the label, releasing a number of EPs over the years. It was around this time when Marco also brought a new project to life: Pan-Pot with Tassilo Ippenberger and Thomas Benedix. The trio's work brought minimal techno into trippier directions, catching the attention of Anja Schneider who soon signed them to Mobilee – her newly formed label now had a main act! Aside from these projects, Marco also produced under the alias Phage, first releasing on Martin Landsky's label Intim. Under this name he would often collaborate with Daniel Dreier, and the pair released a series of successful productions with Highgrade Records, Klang Elektronik and Sender. By the end of 2006, Marco's rising profile earned him a residency at famed Berlin club Watergate, where he continues to play regularly, leading to his
own installment in their famed mix CD series.
When Marco Resmann really brought things into focus, though, was 2007, the year he founded Upon.You Records with Hawks Grunert and Marcus Meinhardt.
These days, Resmann and Grunert maintain the business side of things while Meinhardt has stepped away to focus solely on his creative output. Their new platform allowed him to concentrate on his solo career as he shed away his alias in favor of his birth name. He also decided to discontinue collaborative work, with one exception: the longstanding venture Luna City Express, which is still going strong after Hello From Planet Earth, the 2009 debut full-length marking ten years since their formation (as well as an outward approach to different musical styles). Meanwhile, Upon.You continues after five years, with over 60 releases from artists like
Ruede Hagelstein, Marcus Meinhardt, ONNO, Gunnar Stiller, Emerson Todd and of course label head Marco himself. Mr. Resmann and his co-enterprise have advanced to become a major part of not just Berlin, where they hold regular label nights at Watergate and Panorama Bar, but also the international club scene, and even brighter moments are sure to come…
DOK DATES:
– 09 November 2013 – DOKSHOW @ Numa (BO)