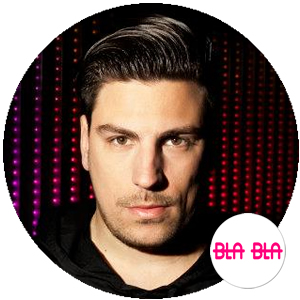 DANIEL SANCHEZ   (Bla Bla)
The Dutch-Spannish Daniel Sanchez is Dj/Producer, Label boss and promotor in one. If the dance, or better, techno scene can be compared with a man's life, Sanchez saw this former child rising up. He started creating sounds since he was thirteen and contributed to the development of Amsterdam as the dance capital of the world. Nowadays he has an international career, an own label and an ambition to bring music to every place in the world.
From the year 2007 minimal techno music was conquering the clubs of Amsterdam. The young Sanchez saw this trend and started to throw legal and illegal parties. Especially the illegal ones in the raw, north of Amsterdam and in a ship called Stubnitz are still renown in the Dutch scene. This was also the year Marco Carola and Loco Dice made a remix of his track 'mumbling yeah', which became an underground world hit.
These successes were one of the reasons Sanchez started his own monthly club night called Bla Bla in 2008 at Studio 80 Amsterdam. He invited a lot of international dj's for the first time in Amsterdam, for example Barem, Andre Oliva and Mathias Kaden. Because these nights were successful he set up the label Bla Bla in 2009. This label teamed up with El Mundo & Satori, Mulder, and Bas Amro and had a great influence in the scene. Individually he was also developing and released his first album on the Remote Area label called Untitled Concept.
2010 was an even busier year with many national but also international gigs. Minimal Techno was more popular than ever and so were the DJ's. By now he released tracks on the labels Remote Area, Plus8(Richie Hawtin) Saved Records By Nic Fancuilli , Suara and more. Apart from music itself he had (and still has) a great interest in the technical developments of the field, and changed his gear every year. Always up for new musical adventures in 2010 he launched the electronic-dub sub label of Bla Bla: Be Real. At the end of the year he created a minimalistic- dub album called Cirkel, which he released, of course, on his own label Bla Bla.
In 2011 he signed a three-year contract with Sensation for the Sensation 3 Year World Tour, where his focus lay on techno. With them he travelled from North- to South- America, Asia and Europe where he created twelve successful shows. Meeting many new, inspiring people he focuses even more on his international aspirations.
Since Sanchez started he played seven times for Awakenings, also seven times for Welcome to the Future Festival, A day at the Park Festival and two times for Time Warp. In 2014 the label Bla Bla celebrates its fifth birthday. One of its presents is that after two years Sanchez is releasing on vinyl again. He established a new label called Cachai with his South American partner. Just like the music scene, Sanchez is always evolving.
Founder of Bla Bla Music | www.blablamusic.com
DOK DATES:
– 27 September 2014 – DOKSHOW  @ Numa (BO)
LIVE SET
[youtube id="mEq2Rvq5SdE" width="580″ height="337″]