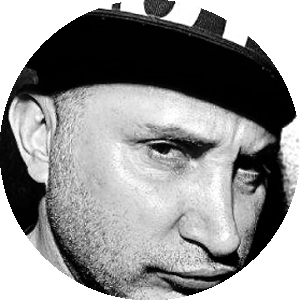 LORENZO LSP (Latin Superb Posse)
Lavora nei club dal 1986 come dj ed organizzatore. Fino all'estate 2000 fa parte del gruppo Latin Superb Posse di cui è stato insieme a Roberto Spallacci fondatore ed artefice di "Pop Planet" one night seminale che in undici anni si è fatta promotrice delle nuove sonorità della club culture,dal primo rap, all'house e derivati ed è stata crocevia di dj's ed artisti quali Run DMC, Knuckles, Rocky & Diesel, Heller&Farley , Leigh Bowery , Mutoid Waste Company etc.etc.
Dalla meta degli anni novanta,parallelamente al suo lavoro con la "Posse",Lorenzo LSP comincia a lavorare come resident o guest dj in numerosi locali in Italia e all'estero.
Nei suoi set le numerose influenze house-disco-funk-punk-wave-deep-acid accomulate negli anni vengono amalgamate in un suono che trova il suo stile in basiche "bassline"e in ritmiche fortemente influenzate dalle più attuali sonorità digitali.
La continua ricerca nella proposta musicale gli ritagliano un posto di spicco all'interno della scena house italiana e a collaborazioni con numerosi top club, tra i quali Base, Colazone da Tiffany e Pervert a Milano, Cocoricò, Pascià ed Peter Pan a Riccione, Le Plaisir a Desenzano , Angels of Love a Napoli, Kinky, Star's Cake, The Flame Bari. All'estero tra i residents del mitico Vertigo a Londra oltre al Superfreq al The End e Egg, DC10, Amnesia, e Space a Ibiza.
Partecipa come guest dj al World Gay Pride 2000 a Roma,al Dance Valley 2001 Amsterdam e alla Street Parade 2004 Zurigo e ultimamente scelto da Locodice come resident nella data torinese del suo "Under300" tour.
All'attività di dj affianca quella di remixer/producer spesso in team con altri DJs quali Dj Remo e Alex Neri. Tra i remix "Who said" di Planet Funk "angel" di Asia Argento oltre al singolo Telegram\Be my groove con DJ Remo.
Dall'inverno 2001 cura la selezione musicale per le sfilate milanesi menswear dello stilista Neil Barrett.e nel 2006 anche la sfilata womenswear di New York. Direttore artistico del Blanco Milano dove suona il giovedì per Diskopolitan .
Parte del gruppo torinese "Savana Potente" dove suona regolarmente è resident per il gruppo "La Messa" e per la serata "Qlab" presso il Q21 a Milano.
Colonna sonora del Doc Show sin dalle origini collabora entusiasta alla nuova trasformazione Dok dove suona mensilmente.
DOK DATES:
– 1  March 2013 – DOKSHOW @ Numa (BO)
– 9  August 2014 – DOCSHOW @ Smaila's (Gallipoli – LE)
– 14  February 2015 – DOKSHOW @ Numa (BO)