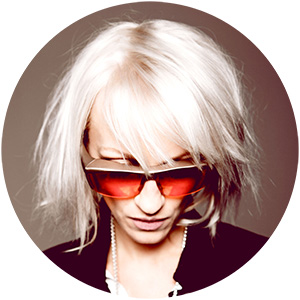 LAURA JONES   (Leftroom / Visionquest / Circoloco)
Amidst an endless army of DJs, Laura Jones's light shines bright through the underground. On first glance perhaps it's her trademark orange sunglasses and presence that can beam a smile from behind a turntable to the other side of a festival; perhaps the fact that her first forays into production steam rollered her into the spotlight.
The Northern house and techno starlet strode into our lives in 2011 with her Leftroom hit Love In Me, a summer anthem that filled her diary for the year almost overnight. But Laura's story didn't just begin with a hit record and an eye condition that requires her to wear the glasses that protect her vision. It began at an early age spending every penny collecting music and buying vinyl like her life depended on it after discovering underground music on an Ibizan dancefloor.
Bucking the trend of one hit wonder producers lacking skills to maintain their success on the world stage, Laura is earning a reputation as a DJ's DJ. The proof lies in her gig resume. She was quickly taken under the wing of first Circoloco and then Fabric, the two clubs she's become best known for plying her trade at and her intensive schedule has featured Detroit's Movement Festival, Warehouse Project, Mysterylands, Richie Hawtin's Enter night in Ibiza and a residency at house music institution Back to Basics in Leeds to name but a few.
Her measure as an artist doesn't just stop at the DJ booth. Since her debut hit she's earned a reputation as a producer with depth and style thanks to timeless pieces that center around her classical training and sultry vocals. With over twelve years of piano training and three in cello and clarinet, Laura understands the dynamics of composition away from the bedroom computer and her tracks, EPs and compilation CD have found homes with key labels such as Leftroom, Visionquest and Crosstown Rebels. As a remixer she's earning a reputation for breathing new life into house classics like Romanthony's Let Me Show You Love, Hollis P Monroe's I'm Lonely, and her forthcoming anthemic underground remix of Todd Terry's Bounce to the Beat.
A true artist with incredible energy and resolve, Laura's unique stage presence has made her one of dance music's most unforgettable discoveries form the studio to the DJ booth and everywhere inbetween.
DOK DATES:
– 13 December 2014 – DOKSHOW  @ Numa (BO)