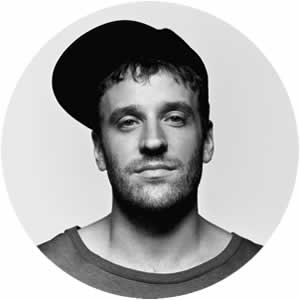 GUTI  (DESOLAT Argentina)
A classically-trained jazz virtuoso and national rock 'n' roll hero in Argentina, Guti was born in an exceptionally musical family, which included orchestra directors, saxophone players and pianists. His grandfather and uncles emigrated from Russia after the war. His mother, an education consultant, is from Uruguay. On long hot summers in that neighbouring country, Guti would steal hours alone at the piano (first teaching himself how to play at the age of five) in a big house belonging to his uncle. Finally, some years later, the family accepted that he could really play – and at the age of 12 a friend of his mother gave him his first jazz shock by challenging him to match Oscar Peterson's performance on the Night Train record. During the rule of the El Proceso military junta, Guti's family fled to cities in Venezuela and Costa Rica: a story arching across Latin America, France and Russia. As a child he soaked up poems and novels by Borges and Vargas Llosa and his father would sing him Cuban songs. He is influenced by the folk music of Argentina, which he says is both incredibly intricate and perfectly simple.
As a teen, after getting into blues he began hanging with successful Argentine rock bands like the Black and Blues, Ratones Paranoicos, Viejas Locas and Los Piojos. "We were jamming, and I discovered that energy." Before long, his own band Jovenes Pordioseros were playing to 10,000 people from Thursday through Saturday. But it's not in Guti's nature to stay locked in one mode of music. He made time to study salsa from a Cuban teacher on the side, as well as studying jazz under various teachers including internationally-renowned pianist Ernesto Jodos. It was in the studio of Latin Grammy-nominated producer and friend Leandro Martinez that Guti began experimenting with making house beats and singing on top. And having grown up with music, it didn't take long before he was banging out several tracks a day without breaking a sweat.
A heartbeat later, he'd landed a hit with Damian Schwarz on Frankfurt label Raum…Musik, and the tune was licensed by Loco Dice for his compilation The Lab. Guti passed a handful more tracks in Loco Dice's direction, tracks that were recorded on his adventurous travels between Berlin, Athens and Paris in 2009 and the die was cast. Guti's electronic career began to ignite. Just two years after his first live sets in Europe, Desolat was proud to present the double 12inch "Las Cosas Que No Se Tocan". In 2010 Guti moved to Düsseldorf to hunker down in the studio to concentrate on the Guti Techno and House project. The result was his stunning debut album "Patio de juegos" released on Desolat. Since then the Latin-Düsseldorfer is taking the world by storm, with fulminant live sets and appearances on labels such as Defected (with Luca Bacchetti) and Cadenza (with Cesar Merveille). Although currently based in Düsseldorf, it's unlikely he will ever leave behind the spirit of the Latin America he knows. "I love Buenos Aires. It's a huge city… a huge jungle. Really fast, really crazy, dirty, messy. But really creative: amazing musicians. That happens with all the poor countries. We don't have money, so we play music. We write books." And the story continues.
DOK DATES:
– 08 February 2014 – DOKSHOW(K-STARS)  @ Numa (BO)