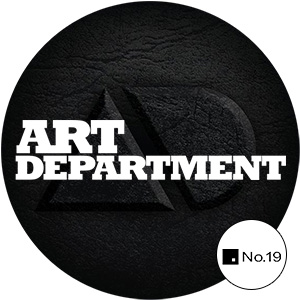 ART DEPARTMENT  (No.19 Music)
Art Department has transcended scenes and broken down walls as underground artists as few others have , garnering accolades including #1 track of the year at the Beatport Awards in 2011, iTunes #2 "Best Electronic Album" of 2011, hailed as "hottest duo in dance music" from outlets like DJ Mag, awarded the 2010 Track of the Year for their breakout hit Without You by long standing authorities like Resident Advisor (UK), Groove Mag (Germany), and #2 in Mixmag (US), and voted #6 Top DJ's in the world in 2012. The duo have also graced the covers of DJMag Canada, Now Magazine, DJ Times, Raveline Magazine and have been featured in wide spread press, including The Guardian, Rolling Stone, Vogue, I:D, Nylon and Vibe Magazine who ranked them #2 DJ/Producers in the world in 2013, second only to Daft Punk, firmly establishing them as a rare thing in the world of electronic music.
Since the project's inception in 2009, there has been no looking back. Art Department have since been installed as CircoLoco residents at arguably the most revered club on earth—DC10; upon request have taken their immersive live show to esteemed nightclubs like Fabric and Panorama Bar; have been invited to perform at trendsetting international events like DEMF (Detroit), Ultra Music Festival (Miami), EDC (Las Vegas), BPM (Mexico), Exit Festival (Serbia), Optimus Alive (Portugal), Parklife (UK/Oz), Creamfields (South America), Global gathering (UK), Lollapalooza (Chicago) and Coachella (California). In 2012 They reached yet another milestone when the duo were welcome guests on the legendary BBC Radio 1 Essential Mix and at the BBC's hallowed Maida Vail studios joining company with The Rolling Stones and The Beatles.
Art Department's sonic cannon Without You arrived sounding fully formed in 2010, a track so unique and original that it set the world of electronic music a blaze. Since then the pair have continued to hone their original and remix production skills most notably, on White's own much-lauded imprint, No.19 Music, with the jewel in their crown—the impressive debut album The Drawing Board released on the prestigious Crosstown Rebels label.
The infamous pair has recently completed their eagerly anticipated second full length studio album set for release late 2014.
Gli Art Department, per chi avesse vissuto negli ultimi quattro anni sulla Luna, sono la creatura di Kenny Glasgow e Johnny White, artisti a tutto tondo nati sotto la fulgida stella dell'underground nordamericano, quello sporco e cattivo d'inizio '90. Sotto l'egida di Damian Lazarus e della sua Crosstown Rebels si sono appropriati del periodo che intercorre tra il 2010 e il "per sempre" con quell'inno catartico e ipnotico che risponde al nome di "Without You" . Ridurre però ad un unico singolo una formazione seminale come quella canadese non farebbe onore all'intelligenza di nessuno; gli Art Department rappresentano lo Zenith del concetto di "nu house", che si pregiano di riversare nelle nostre vite anche grazie alla No.19, meraviglia produttiva creata dallo stesso White con lo scopo di diffondere il verbo messianico attraverso ogni canale che la rete concede. Gli Art Department sono la summa e l'indirizzo stilistico di tutto ciò che avete ballato e ballerete nei prossimi anni; uno Tsunami di gioie sintetiche, balli dionisiaci e lustrini impossibile da arginare, se non attraverso la gelida razionalità Al Rashomon, grazie alla supervisione di Bizzarro, presenteranno in anteprima il loro secondo e attesissimo album "Natural Selection", lavoro che vanta collaborazioni "monstre"del calibro di Aquarius Heaven e Seth Troxler. Non spaventatevi, non avrete nulla da perdere; tranne probabilmente la ragione.
DOK DATES:
– 07 February 2015 – DOKSHOW  @ Numa (BO)