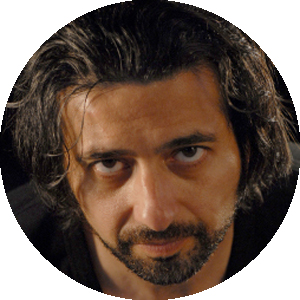 FRANCESCO FARFA
Francesco Farfa nasce nella provincia di Siena nel 1968.
Nell'84 inizia i primi approcci con i piatti e nell'85 inizia a lavorare nella discoteca "Y" di Certaldo (FI). Dagli anni 90 gli amici lo ribattezzano Farfa, abbreviazione di farfalla, durante una notte magica nella quale si rendono conto che le sue mani sul mixer volano con la leggiadria e l'eleganza tipiche della farfalla stessa.
I primi locali che lo vedono come protagonista sono la Barcaccina di Livorno, l'Imperiale di Tirrenia, il Tartana di Follonica e l'Insomnia di Pisa; parallelamente inizia il suo percorso internazionale vivendo e partecipando alla nascita della Rave Age a Parigi e allo sviluppo della scena progressive e techno in Europa.
Il suo nome comincia a brillare nel panorama musicale inglese, tanto che importanti riviste come Dj Mag, Melody Maker e Update iniziano a parlare del Fenomeno Farfa, mentre Muzik lo sceglie addirittura per la copertina del suo primo numero.
Intanto, Francesco collabora con Joy Kiticonty nel team Farmakit, producendo remix e brani propri, suonati dai migliori dj, inclusi in svariate compilation e utilizzati addirittura per la colonna sonora del film Il Centro Del Mondo di Wayne Wang.
Tra il '96 e il '98 avviene la consacrazione definitiva con quattro release per la sua label Audioesperanto, fra cui Psichedethnic One che trova il supporto incondizionato di Danny Tenaglia e viene inserito nella prestigiosa compilation Global Underground mixata da John Digweed.
Da qui in poi, Farfa collabora e stringe relazioni con Tony Verdi, Dino Lenny, Alex Picciafuochi e Pleasure Team; è proprio tramite questi ultimi che inizia anche il sodalizio con l'etichetta di Barcellona Serial Killer Vinyl.
Per SKV arrivano ottimi cd mix come Music Public Property e Travel Mate, nonché numerosi floorfiller quali The Search, Autodisco, Tartana e Universal Love, nelle valigie dei più conosciuti dj al mondo – oltre ai già citati, un altro grande fans di Francesco è sempre Laurent Garnier – di grande appeal radio e di grande importanza a far diventare il Nostro un globetrotter della consolle a livello planetario.
La sua fama è talmente alta che nel 2004 gli viene tributata una puntata singola della serie di documentari Dj's Trip – per la rete satellitare Cult Network, insieme ai big del panorama nazionale e internazionale.
E' dal 2005 la realizzazione del suo album d'esordio, Human Bridge, un viaggio fra ritmi house e melodie electro, algidità techno e sensazioni trance, che imprime in maniera inconfondibile il tocco di Farfa, sempre personale e creativo anche negli arrangiamenti e nella struttura.
Presentato da Pete Tong nel suo programma Essential Selection su BBC1, il primo singolo estratto Acidazzo si è subito imposto nelle chart e nelle playlist di artisti come Satoshi Tomie,
Deep Dish, John Digweed, John Aquaviva, Laurent Garnier, Hector Romero, Danny Rampling, Nick Warren, Anne Nightingale e moltissimi altri
Dopo aver pubblicato gli ulteriori singoli Outing e e Changing Shapes (incluso anche nella compilation Armani Exchange di Dave Morales), Francesco si è concesso il lusso di suonare ad alcuni appuntamenti stratosferici: fra questi, la chiusura estiva e il capodanno del leggendario Pacha di Ibiza – primo italiano mai ospitato in entrambe le occasioni! –, il tour italiano di MTV Club Generation, il tour messicano per la presentazione di Human Bridge, il festival Brahma Beat a Buenos Aires davanti a 20000 persone, il festival di BilbaoLive (60.000 insieme a Placebo e Guns'N'Roses ), la festa del Pacha a Miami e la chiusura ufficiale dello Space di Ibiza (che Francesco continua a fare tutt'oggi).
Le sue performance riscuotono talmente tanto successo e sono così dense di significato e trasfigurazioni musicali che le sue date vengono elette come le migliori della stagione: è successo nel 2002 e nel 2006 a Mykonos, ad esempio, ma è accaduto anche nei tour del Sudamerica e in quello nell'ex Russia.
Nel 2007, Francesco ha remixato brani di Sonomike , nonché il singolo High Times della stella nascente Nate James – uno dei talenti della nuova ondata pop soul – prodotto il rework del brano Acidazzo (inserito anche nella compilation Audio Therapy presents Across Borders).
Oltre a tutto questo, è stato pubblicato il primo e secondo volume della compilation Farfasound con tutto il meglio del mood firmato Francesco Farfa .
Il 31.10.2007 prende vita anche il party Farfasound in Italia.
Party totalmente prodotto Francesco Farfa proiettato verso il supporto di giovani dj di talento.
Farfasound e' anche un radio show che va in onda sulle seguenti radio : IBIZASONICA(IBIZA E BALEARI) / LOCA FM ( PENISOLA IBERICA ) / RADIO KLUB (PARIGI – FRANCIA) / ENSONIC FM (INDIA)
Nel novembre 2008 iniziano due progetti importanti :
– il rilancio di Audio Esperanto,label ibernata 10 anni prima, e che vedra' pubblicate,insieme alle proprie, le migliori selezioni di produttori amici ed anche produttori emergenti.
– Il party Farfasound a Barcelona.
Il 2008 ha presentato inoltre l'uscita dei seguenti remix di Farfa :  Supernova feat Anja j – Dude ( Lapsus) /  Neo –The Elected (Serial killer) / Anime Volanti (Press lab) .
Nel 2009 remixa : Mah! – apple ( Recline rec.) una cover strumentale in chiave techhouse del celebre brano Eleanor Rigby (Beatles)  / SandroC _ Walking _Audio Esperanto / Miki the Dolphin _ Allow My future_Audio Esperanto.
Uscita anche anche nel 2009 la sua ultima produzione titolata "White sabbath",altra boardingpass per l'ennesimo volo targato Audio Esperanto.
Il 2010 Farfa taglia il traguardo dei 25* anni di attivita' festeggiandolo il 5 gennaio con un mega evento proprio nella discoteca dove inizio' davanti ad un pubblico pagante,L'Y di certaldo (Fi).
…Inutile dire quanta affluenza c'e' stata per conoscere le origini di Francesco.
A febbraio 2010 esce FARFASOUD CLAN "House Piano" (Audio Esperanto) riscuotendo eccellenti feedback.Il brano viene licenziato per varie compilations.
Prossimi in uscita il brano "Putxet" su etichetta Laspus rec. dei Supernova .
Da segnalare anche il remix di "Nada" by Alen Sforzina,un oscuro floorfiller in chiave tech-jazz uscito a settembre su AE.
Ibiza 2010 : Farfa collabora con il nuovo party del mercoledi al Privilege di Ibiza,WARUNG (Brazil) partecipando al closing con Layo& Bushswacka.
3 anche le presenze al party Cafe' Ole' dello Space.
Il 2011 prevede una seriale uscita di produzioni a suo nome tra progetti e remix nonche'una speciale collaborazione con il marchio LOUD di Roma del quale Francesco e' stato fin dall'inizio un grande estimatore.
Francesco Farfa immagina i set come esperienze ultraterrene, in cui prendere per mano l'ascoltatore e trascinarlo verso le scoperte più disparate, a volte celestiali, a volte brutalmente terrene.
Come dovesse ogni volta superare un Acheronte, Farfa punta tutto sulla creazione di un ponte fra sè e il pubblico, influenzandolo, guidandolo, ma recependo anche le sue volontà, spingendosi un passo oltre, rischiando, mettendosi in discussione.
Uno stato quasi ipnotico che permette, all'audience come a lui, di sublimare insieme verso territori inesplorati.
Farfa is an abbreviation of farfalla which in Italian means butterfly. This is what he was baptized with by his friends and many others who have had the privilege of experiencing the mystical sensation of one of his sessions where he ingeniously drifts from one mix into another. His incredible technique together with his inimitable selection of music have made him one of the most prominentDJs in the international techno-house scene. He was born in Florence where he began as a DJ in 1984, he has worked in the best clubs of Italy and worldwide. His international fame took off in 1994/5 when leading music magazines like Dee Jay Magazine, Up Date and Melody Maker (which dedicated 2 pages to him) began to publish articles about the Farfa Phenomenon. The English magazine Muzik chose Francesco as their DJ-face to promote their first issue. His sessions are played regularly on Italia Network, a national radio station which only plays house and electronic techno and Rai Stereo 2 have also asked him to do several special programs for them. From October 2005 he is also having his own program on Ibiza Global Radio, regulary broadcasted every Saturday night and followed by loud of enthusiastic funs thru internet. His talents as a producer began to evolve in the beginning of the 90s when, together with Joy Kiticonti – his inseparable work-mate in the studio at that time – did several remixes for people like Caspar Pound (Rising High), Charly Hall (Drum Club) and Dino Lenny. His participation in the Trip do Brasil project with Jose Padilla and D.J Cam, edited by Sony France, truly confirmed his international fame as a producer. On 1997 he started Audioesperanto a very avant-guarde label on which he released 4 tracks. After that, he found his home at Serial Killer Vinyl, an independent label based in Barcelona which is releasing all his productions. For SKV he mixed the compilation Florida 135 vol.2 along with Tony Verdi, Music Public Property and Travel Mate. On 2003 Universal Love was played by the most relevant DJs from club scene and broadcasted worldwide on radios. It is now considered as a classic, Laurent Garnier is including it in his sets. On 2005 Human Bridge his first solo album was released on SKV and on Glitter, the hype label of Do It Yourself in Italy. The album resumes Francesco..s global idea of music .. from House to Techno, passing thru a kind of sweet Trance and Electro .. Nice for relaxing, amazing to dance! Acidazzo was the first single got a very good reactions and very satisfactory sells. Supported by djs as Nick Warren, John Digweed, Dave Seaman, Deep Dish, etc. it was also included in Pete Tong Essential Selection. Acida 220 , the vocal version of Acidazzo, includes a David Tort remix, released at beginning of 2006. The next single is called Changing Shapes, it will be released on June 2006 and includes remixes by David Ferreiro and Chus & Ceballos. On December 2002 Francesco Farfa did an Essential Mix for Pete Tong program on Radio 1-BBC which aroused big responses from the audience. In 2003 he was approached by the famous Italian tv-director Alberto D..Onofrio to shoot an episode of the series DJ TRIP, still broadcasted on SKY TV ( a satellite tv channel) His fame has also sky-rocketed within Spain. He has maintained a monthly residency at Florida 135 for more than 3 years, and for the past few years, the Francesco Farfa Fan Club has been in operation and is constantly sought after throughout the country. Francesco does not like to be labeled as a Techno or House DJ since he considers music to be a universal property at everyones disposition. If you ask him to define his style, he will answer: I am very spiritual, subliminal… I like to take people into a trip – a musical one …without barriers and prejudices.
In this 2008 FARFA restart his own label AUDIO ESPERANTO 10 years after its foundation, and 8 years from its birth. The label came up as a new one, but not as a label in itself; it took up the opportunity of reminding all that music is before everything an universal language. In short, music needs no cataloguing , no barriers, no impositions, no limits.
After a long period of commissions, openings, collaborations, the last years seem to bringing up again the dangerous barriers that Audio Esperanto has always wanted to fight against.
The year 2008 also brought the release of the following remixes of Farfa:
– Supernova Feat Anja J – Dude (Slip)
– Neo-The Elected (Serial killer)
– Anime Volanti (Press lab).
In 2009 remixes:
– Well! – Apple (Recline rec.) Instrumental in key techhouse a cover of the famous song Eleanor Rigby (Beatles).
– SandroC _ Walking _Audio Esperanto.
– Miki _ Allow the Dolphin My future_Audio Esperanto.
Also released in 2009, his latest production titled "White Sabbath", the other for yet another flight weblog boardingpass Audio Esperanto.
2010 Farfa finishes in the 25 years career's Festival on Jan. 5 with a mega event in its early disco' in front of a paying audience, the Y of Certaldo (Firenze).
… Needless to say how much turnout there 'was to know the origins of Francesco.
In February 2010 comes FARFASOUD CLAN "House Piano" (Audio Esperanto) receiving Excellent feedback.The song is licensed on various compilations.
Coming out the song "Putxet" label Laspus rec. of Supernova.
Of note is the remix of "Nada" by Alen endeavor, a dark floorfiller in key tech-jazz released in September on AE.
Ibiza 2010: Farfa works with the new party on Wednesday at Privilege, Warung (Brazil) participating in the closing with Layo & Bushswacka.
3 also attendance at the party Cafe 'Ole' at Space.
The 2011 provides a serial output of his productions and remixes as well as between projects' a special collaboration with the brand LOUD (pro audio equipment from Rome ) which Francesco' from the beginning was a big fan.
Francesco Farfa imagine sets as otherworldly experiences, which take the listener by the hand and drag it to the disparate findings, sometimes heavenly, sometimes brutally mundane.
How should any time exceed an Acheron, Farfa tip all about creating a bridge between himself and the public, influencing, guiding, but also incorporates his will, going a step further, threatening, challenging.
An almost hypnotic state that allows the audience to like him, to sublimate together toward uncharted territory.
"I'm inspired by all DJs. Even the bad ones. Francesco Farfa has been great this year". Danny Tenaglia – (2000 MUZIK DJ AWARD's Winner)
DOK DATES:
– 20 April 2014 – DOK @ Numa (BO – Italy)
– 15  August 2014 – DOKSHOW @ Villa delle Rose (Misano Monte – RN)