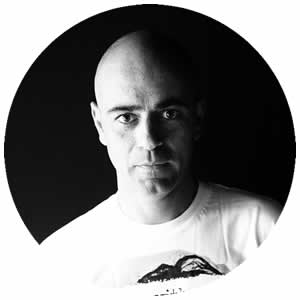 ANDREA ARCANGELI
Innovativo come le tecnologie che usa e amante della sperimentazione come chi non e' mai sazio, Arcangeli e' dj, produttore, artista.
La consolle e' il suo laboratorio ipertecnologico dove, come una sorta di cyberalchimista dei suoni, mescola originalità, ritmo e improvvisazione trasferendo sulla pista da ballo le molteplici possibilità' d'arrangiamento offerte dall'uso di software avanzatissimi: melodie inedite, coinvolgenti, arricchite da effetti vibranti e ipnotici.
Lo studio di registrazione si compatta in un pc portatile trasformando l' attivita' del dj in live set permanente, generando performance uniche ed esclusive, mai semplici ripetizioni di suoni preconfezionati.
As innovative as the technologies he uses, in love with experimenting and having never enough of it, Andrea Arcangeli aka Andreino is a dj, a producer, an artist.
The dj booth is his hyper technological laboratory where he, as some sort of cyber-alchemist manipulates sounds, mixing originality, rhythm and improvisation and transferring to the dance floor the million possibilities that the latest arrangement softwares offer: new and stunning melodies that are enriched by vibrant and hypnotic effects.
The recording studio is completed with a laptop and it transforms the activity of the dj in a continuous live set, generating unique and exclusive performances that are never simple repetition of pre packed sounds.
Inspired by the liberating seduction of the house from the 80's, Andreino starts his career as a dj together with Sandro Russo founding M.A.S. Collective and producing such tracks as Moving on, and later on, Another Story, which are two the best results of that productive collaboration that was enriched by the precious contribution of Ce Ce Rogers's voice, whose interpretation added dense emotionalism and passion to the tracks with his gospel like twist.
The collective is eagerly looking for references, personalization and mixes of genres that are always one step in advance to the latest emerging trends.
They look at the United States, and there, their career has a boost: Strictly Rhythm asks them to create some tracks in 1996 and the result is Stand Up and Where Were You, which are followed by over 50 tracks inspired by the need of mixing harder and sharper sounds together with warm and fuller voices as Susu Bobien's, Cinda's, Jimi Polo's and Marc Almond's. The driving rhythms of house music are altered and alternate with acoustical interlays, drawn with curiosity and audacity.
The high quality of the projects makes it possible to work with such prestigious labels as Narcotic, Azuli, Airplane, Bedrock and Yoshitoshi. At the same time, the collective starts remixing and reinterpreting tracks for internationally known artists. Some names? Jocelyn Brown, FunkyGreenDogs and Celeda.
Contamination is the base of their works, their interest is opening up to new experiences of cross over with unexpected and different artistic environments, as Theater: the project Dippy Site, created together with Nico Note, singer and performer, developed through audio happenings, and Régola, a theatre event inspired by Hildegard and Bingen.
In the meantime Andreino reaffirms himself as a protagonist of the Club Culture in the 90's playing in iconic clubs of the Riviera Romagnola: Echoes, Peter Pan and Byblos, and in such international clubs as The Decadence in Thessaloniki, The Vertigo in London, The Kult in Lausanne.
The Originality of the compositions, the sensuality of the rhythms, the constant research are just a few of the characteristics that make Andreino special to the eyes of such artists as Deep Dish (who insert Soul Provider's "Rise" remix in their Global Underground compilation), Little Louie Vega and Kerry Chandler who, respectively, include MAS Collective's productions inside Strictly Rhythm's Compilation and the single You Don't Know among the 5 classic tunes of house music.
Arcangeli's approach to composition of sounds and projects exalts his eclecticism. And this is his personal challenge to who wants the dj to be fenced in a role of mere music supplier. Hence, the need to found a new label, Uomo Records, whose aim is to be the italian point of reference for the international music market and the place where all the best and most interesting djs and producers meet.
Andrea Arcangeli accelerates and multiplies his expressivity through the infinite possibilities given by the digital to manipulate the sound, turning every bit in nervous energy, translating the emotions of who fills the dance floor in music experience: jam sessions made through a direct contact with the public, where emotions bounce from the bodies to the screen.
DOK DATES:
– 31 October 2013 – DOKSHOW @ Numa (BO)
– 26 April 2014 – DOKSHOW @ Numa (BO)