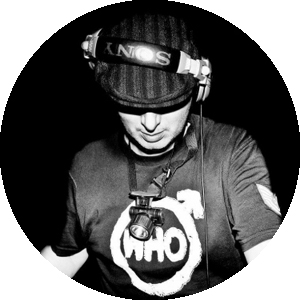 FLAVIO VECCHI (dj Resident)
Nato a Bologna (Acquario) fa parte della "old skool" italiana, avendo iniziato come dj nei primi anni '80, facendosi notare prima in piccoli clubs della sua citta', Bologna, fino a quando, nel 1987, gli viene data la responsabilità come unico dj resident di un club che fara' storia:Ethos mama club in Riccione, il primo club in Italia dove la gente ascoltava e ballava qualcosa di rivoluzionario: – Chicago Traxx, Tekno Detroit e Deep House. Dal 1991 lo stesso feeling si trasferisce nell'attuale "Echoes" sempre in Riccione, noto a tutti come il vero e autentico underground house club italiano, dove Flavio, suonando con carisma e stile impeccabile e originale, riesce a coinvolgere persone provenienti da ogni parte d'Italia. "Io vivo l'esperienza di dj come una missione; Il ritmo è una lingua che tutti conoscono, parte dal battito del cuore e fa saltare il meccanismo con il quale ci vorrebbero programmati e ci proietta in un'altra dimensione dove vivono e respirono gli spiriti buoni dalla nostra vita; ecco, la mia missione e proiettare il pubblico in quella dimensione". Suonare fino alle cinque della mattina non era abbastanza, e cosi', con alcuni amici fra cui il suo amico dj Ricky Montanari, nel 1990inauguro' i primi due "after hours"italiani,"Diabolika " e "Vae Victis. Varie esperienze all'estero, London, Paris, Tokio, Brussels, Amsterdam, Geneve, Zurich, Ibiza, contribuiscono a consacrarlo Top DJ, o, come lo chiamano in Italia, il maestro. Nei primi anni "90" collabora in varie produzioni per la Irma records, Key Tronic Ensemble-House of Calypso, Riviera Traxx E.P. vol.1-2-3,un remix per Jestofunk productions. Grande successo fece il singolo"Kiss me(dont' be afraid)" su Hearthbeat/Media, licenziato anche dai Deep Dish per la loro compilation "Global Underground-Deep Dish in Toronto afterclub mix". Per alcuni anni ha lasciato il lavoro di studio perchè troppo occupato come dj, fino al 2001 per una produzione targata "Pasta Boys" dal titolo "Zen essential" su Manocalda records. Ultimamente a Flavio è tornata la voglia di produrre, infatti nei primi mesi del 2005 sono uscite tre sue produzioni e un suo remix che sta' avendo un ottimo riscontro; il remix in questione è la sua "Snowblitz remix" di "My Darkside" dei Motel Connection, uscito anche su Single CD per la EMI records, mentre le produzioni sono"Transplant my head" su Atollo records, "Come on & Groovin" su Rush records e, per la nota Presslab records ha fatto uscire un 12″ chiamato "Shamano-standing on your feet". London è sempre stata una sua meta preferita fin dai tempi del "Confusion" con Kid Batchelor o come "Dj guest" al "Ministry of sound" dei tempi d'oro. Nella capitale inglese, è dj guest al "The Cross (Vertigo) e al "Turnmills (The Gallery) e in ITALIA è il dj Resident del "DOK-Docshow Every Week" di BOLOGNA c/o il NUMA.
You could encapsulate Flavio's 'sound' using the words of the music journalist who,after a DJ set Flavio played in London many years ago,on his articole said" What renders him unique is his innate ability to merge and alternate hot rythms and moving atmosphere. To listen to his DJ set is to allow yourself to be transported on a carpet of warm interwoven sound, sometimes open sometimes deep,from whichsuddenly flows the power of house beat.
Then, when that beat seems to fade away, the Maestro controlling it is there to pick you up and carry you on to the next wave"
Flavio Vecchi is part of the Italian Old Skooll having begun his career as a dj in the early '80, first coming to notice in small clubs in his home city of Bologna, until, in 1987, he took on responsibility as the only resident dj in a club which was to make history: Ethos mama.
Ethos mama club in Riccione, the first club in Italy where people listened and danced to what was then revolutionary: Chicago Traxx, Tekno Detroit, Deep House,N.Y.C.grooves.
From 1991 this same mood transferred to the now Echoes club still in Riccione, known to all as the true authentic Italian underground house club, where Flavio, playing with his impeccable and original charisma and style, has brought in people from all corners of Italy.
Playing until 5 in the morning was not enough, and so in 1990, with a group of friends, amongst whom dj Ricky Montanari, he inaugurated the first two Italian after hours," Diabolika"and" Vae Victis".
His experience abroad, including in London, Paris, Tokyo, Brussels, Amsterdam, Geneva, Zurich,Bucarest and Ibiza(just to named a few) contributed to making him Top DJ, or as he is called in Italy, the Maestro.
London has always been his favourite place, from the old times of Confusion underground club with dj Kid Batchelor, to the golden days as guest dj at the Ministry of Sound,.at The Cross(Vertigo) and at The Turnmills(Gallery).
In 2011 the city of Bologna,his city,is home of a new saturday night of great success called "Dok",of course at Flavio it's been offered the residence once a month.
Of course he is been involved in many collaborations,remixes and record productions,you can find out at http://www.discogs.com/artist/Flavio+Vecchi
DOK DATES:
– 25 December 2019 – DOKSHOW  @ Numa (BO)
– 18 Genuary 2019 – DOCSHOW  @ CAP CREUS  (Imola – BO)
– 25 December 2018 – DOKSHOW  @ Numa (BO)
– 31 October 2018 – DOKSHOW  @ Numa (BO)
– 31 October 2017 – DOKSHOW  @ Numa (BO)
– 01 January 2016 – DOKSHOW @ Numa (BO)
– 31 October 2015 – DOKSHOW @ Numa (BO)