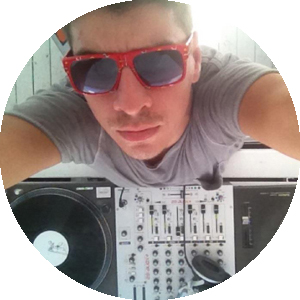 STEFANO ALUZZI
Originario della Puglia influenzato e appassionato da diversi stili come il raggae funk e hip hop si avvicina istintivamente da giovanissimo alla musica imparando a suonare la bateria e diversi strumenti a percussione.
Un anno vissuto a Londra appena vent'enne è la leva giusta che scatena l' interesse per la musica eletttronica in particular modo break beat e drum n bass generi all epoca in piena esplosione approcciandolo al mondo delle drum machine e sintetizzatori .
In seguito Grazie ad un esperienza con la redbull music academy produce una traccia contenuta in una compilation per il lanncio della console PLAYSTATION PSP ed entra in contatto con la scena clubbing italiana ottenendo residenze presso prestigiosi club come l ex mud di firenze e il Velvet di Rimini dove si occupa spesso della programmazione musicale grazie ai contatti con DJS d'oltremanica conosciuti nelle precedenti esperienze.
Da segnalare anche l esperienza come resident al Kindergarten nella serata Playhouse a Bologna.
Attualmente sempre a Bologna collabora con la serata DOCSHOW ed è tra I promotori dei Festival internazionali The june ( www.thejune.net) e Sunandbass che si svolgono in sardegna a giugno e settembre.
Tra le produzioni da segnalare in particular modo l uscita su Secouer Records 100 days (con remix di Andre Crom) e Drift su Fontek records che hanno riscosso un ottimo successo tra djs del calibro di Marco Carola M.A.N.D.Y. Someonelse per citarne alcuni che le hanno regolarmente postate nelle loro charts. Stay tuned per le prossime uscite !
Born in Puglia has always been influenced by different styles like funk reggae & hip hop approaching music very young as a drummer and percussionist.
A new interest in electronic music like break beat and drum n bass due to an year living in London at the age of 20 introducing him into the world of drum machines and synthesizers.
Back in italy an experience with redbull music academy and a track produced for the launch of Playstation PSP helps to approach the Italian club scene playn regullary in clubs like Velvet Ex Mud and Cocorico' where he often takes care of the music program too.
It s important as well a 3 years experience at Kindergarten Club into the Playhouse nightn in Bologna where he had the chance to compete regulary with important and very good djs.
Actually he plays in the DOK SHOW night in Bologna and promote the new international festival THEJUNE (thejune.net) in Sardinia.
As a producer it s important to note the latest exits100 days for Secouer Records with a remix by Andre Crom and Drift on Fontek Records boths very succesfull in several dj charts like Marco Carola M.A.N.D.Y. and Someoneelse as soon it s more to come so stay tuned.