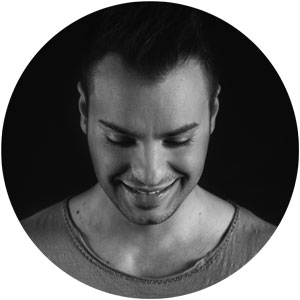 RUBEN MANDOLINI  (Snatch Records / Defected / Off Recordings)
Ruben Mandolini was born in Prato in 1982.
He approaches the world of music since the young age of 13 years. His great passion for it and the ease with which he's able to play musical instruments, led him to become a passionate musician about guitars, keyboards and modular synthesizers.
 
Still very young, Ruben began to attend the most important clubs in Tuscany and his interest in this kind of electronic music led him to begin his career as a DJ in some small clubs in the province.
Since then everything was in a growing culture of House and Techno which soon led him to devote himself to what concern DJing and music production.
Over the years, his dedication and professionalism in addition with the grit that he emanates from his dj-sets, brought him to perform in many major Tuscan clubs until becoming resident of CLUB999 in Prato which you can say…it's his home!
 
Many of the major labels in the current underground scene, among which Snatch! Records, Material Series, Circle Music and Lapsus Music, started to be interested in his sound that over time has become a deadly mix of House, Techno and funky-grooves.
His productions got great feedbacks from both critics and by his colleagues, his tracks indeed are appreciated and played by many international renowned artists such as Riva Starr, Mark Knight, Pete Tong, Paco Osuna, Pirupa, Leon, M.in, Mathias Kaden, Supernova, Butch, Mihalis Safras, Danny Serrano, Luca Agnelli, Arado and many other big DJs.
Ruben Mandolini nasce a Prato (Italy) nel 1982.
Si avvicina al mondo della musica fin dalla giovane età di 13 anni. La sua estrema passione per essa e la spiccata semplicità con cui riesce a suonare gli strumenti musicali, lo porta a diventare un musicista appassionato di chitarre, tastiere e sintesi modulare.
Ancora molto giovane, Ruben inizia a frequentare i più importanti Club Toscani, così' che l'interesse per questo genere musicale lo porta a iniziare la sua carriera come Dj nei piccoli club di provincia.
Da allora tutto va in un crescendo di cultura House e Techno che ben presto lo porterà a dedicarsi completamente a quello che riguarda il Djing e la produzione musicale.
Nel corso degli anni la sua dedizione e professionalità in aggiunta alla grinta che emana dai suoi dj-set, lo portano a esibirsi in molti Club Toscani di rilievo fino ad arrivare ad essere resident di un Club pratese, CLUB999, del quale si può dire… sia casa sua!
Molte importanti etichette dell'attuale scena underground, tra cui spiccano Snatch! Records, Material Series, OFF Recordings, Lapsus Music e Defected, iniziano ad interessarsi al suo Sound che col il tempo è diventato una micidiale miscela di House, Teck e Funky-grooves.
Le sue produzioni ottengono ottimi riscontri dalla critica e vengono apprezzate e supportate da molti Artisti di fama mondiale quali:
RIVA STARR, MARK KNIGHT, PETE TONG, KAROTTE, NICOLE MOUDABER, PACO OSUNA, PIRUPA, LEON, M.IN, MATHIAS KADEN, SUPERNOVA, LUCA AGNELLI, BUTCH, ARADO, MIHALIS SAFRAS, DANNY SERRANO e molti altri big Dj's.
DOK DATES:
– 21  March 2015 – DOKSHOW  @ Numa (BO)