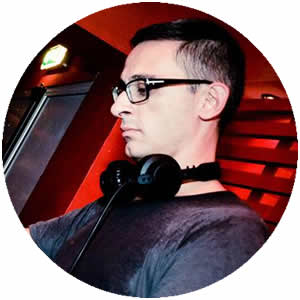 RICKY GADDI
Ricky grew up listening to bands like Everything But the girl, Pet Shop Boys , Technotronic , Mark Moore and S-Express, Depeche Mode, Curiosity Killed the Cat, but also to pop artists like Madonna, Michael Jackson , Faithless, and hip-hop crews like Kool & The Gang, Manthronix, Run DMC & Wu-Tang clan.
Always fascinated by clubs & electronic music, his career began in the late nineties, thanks to Stefano Borelli.
He's been promoting events and djing in Italy since then at the biggest and best club nights such as Cocorico' (riccione), Echoes (riccione), Peter Pan (riccione), Prince (riccione), Pascià (riccione), Docshow (bo), Les Folies de Pigalle (re), Matis club (bo), Juice of Juice (bo), Star's Cake (bo), Le Plaisir (bs), Classic Club (rimini), Amnesia (mi), Kindergarten (bo), NuMa (bo), Arterìa (bo), Cenerentola (re), Maffia (re), Adrenaline (re), Vox Club (mo), Paranoic Dancefloor , Area Club (sassuolo – mo), Madame (fe), Stork (milano marittima), RedRum (bo), Musica Per La Vita (outdoor event in Genova's Forte Sperone), Frau Marleen (torre del lago- LU)
He's played alongside italian's finest djs like Marco Carola, Ralf,Davide Squillace, Claudio Coccoluto ,Claudio di Rocco, Pastaboys, Francesco Del Garda, Cirillo, Lorenzo Lsp, Walter S, Steve Mantovani, Ivan Iacobucci, Federico Grazzini, Pepe (margot) ,and many more
From mid 2006,having moved to Australia, he's been able to hook up with Melbourne's finest local artists such as Jono Fernandez, Uone, Luke Bowditch & Frisky, Sean Quinn, PQM and Dave Pham, carving myself a place in Melbourne's underground dance scene , guesting and hosting several radio shows on the world infamous KISS FM and scoring appearances in clubs all over Melbourne guesting the likes of Snap.Crackle., OneSixOne, Pretty Simple @ FFOUR, CandyBar, Quirky @ Revolver Upstairs, ROOM 680, Kamikaze @ Platform One, Bimbo De Luxe (alongside Matt Peri), Lab parties, Cristàl, the Glasshouse, and many more around town…
Between 2008 and 2009 he's been busy running (and playing!) killer parties with the greatest djs Melbourne and Australia had to offer…1st one on December 20th (boat party) has been a total mayheeeeeem! Second episode on a rooftop garden was described as one of the best parties in summer 2008-2009.
In april 2009 having moved back to Italy ,he got back to basics and back to djing alongside the likes of Marco Carola, Magda, Mayaan Nidam, Kabale Und Liebe, Marc Houle, Davide Squillace, Livio & Roby, Seuil, Dan Ghenacia, Simon Baker, Dyed Soundorom, Sascha Dive, Shlomi Aber, Onur Ozer, Mikael Stavostrand , etc..
Also from may 2009 his very own dance parties called 'THE BOX SOUNDS' , 'WAREHOUSE OPEN AIR' , and 'BARN' (featuring the best of underground artists from all over the world)…are having a huge impact on Modena's club scene..
Currently he holds residencies in Bologna @ Dok – Docshow Every Week on Saturdays and in Modena @ Barn Club on Fridays.
Always on the spot for new sounds and fresh music, his sets are a fine example of what is happening at the moment with this renaissance of the house sound adding to it his very own deep, percussive touch…a mixture of deep house building to full flavoured tech and dubby techno..
Heavily influenced by the sounds of Berlin, Manheim, and London, the love for warm synth's as well as for deep twisted basslines and dark, trippy atmospheres is his main and most recognizable feature . What he manages to achieve when he play is a fluid and dynamic sound, made of different styles blended together in a way that makes you move! Subtle melodies and smokey beats lead thru an evocative and deep journey that will have the dancefloor trip…
In addition, he's also active in studio as a producer, with releases on Gitex Audio (sub-label of Etichetta Nera), Urban Legend Recordings, and House Beat Records.