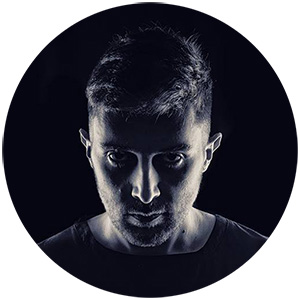 ROMANO ALFIERI   (Noon Records / Break New Soil / Tenax Recordings)
Romano Alfieri is an italian dj and producer that began his career in the early part of new mil­le­nium by the major events in Tus­cany, where he had the oppor­tu­nity to play with inter­na­tion­ally renowned guests and in impor­tant events such as Cocoon and Minus parties. From sea­son 2007 / 2008 he became the most impor­tant res­i­dent dj of Reflex Club (Pisa).
In those years he starts to pro­duce elec­tronic music and on decem­ber 2009 he releases "Moved To Love ep" one of the biggest dance­floor destroy­ers of the win­ter sea­son on "Break New Soil" Gre­gor Tresher's label.
His pro­duc­tions are now played and appre­ci­ated by the best artists in the world In 2010 he releases many eps and remixes on the best Euro­pean labels includ­ing: Break New Soil, Strictly Cho­sen, All Inn Lim­ited, Bla Bla, Inter­na­tional Freak­show, Kling Klong, Great Stuff, Big City Beats and many oth­ers and thanks to the suc­cess of his works, he won "Elettrowave Italy", an his­tor­i­cal com­pe­ti­tion for new talents.
In the 2011 he releases 'Leave the Valley' on Break New Soil that has a lot of success and it was encluded in the compilation of the 'Sea of Love' festival, mixed by Karotte.
In the 2013 Tenax Recordings, label of the homonymous club in Florence, has choosen Romano for an EP called 'I follow you'. In the same year he has remixed Todd Terry, appeared on the compilation of Watergate of Berlin mixed by Matthias Kaden.
Thanks to his per­se­ver­ance he became part of "Fam­ily Affairs book­ing agency" that gave him the pos­si­bil­ity to play at well estab­lished clubs such as Stu­dio 80 (Ams­ter­dam) ADE (2010-2011-2012), Cocoon Club (Frank­furt), Sankeys (Man­ches­ter), Three House (WMC 2013 – Miami), P6 Club (Bogotà) and many oth­ers all across Europe.
In the meantime he also played in the most important festivals in Europe like Time Warp Italy, Movement Italy, Park Life Manchester, roBOt Bologna, Sonar Off Barcellona.
His Dj-sets are char­ac­ter­ized by influ­ences rang­ing from funky, to house until more elec­tronic and techno influences.
DOK DATES:
– 29 November 2014 – DOKSHOW  @ Numa (BO)
– 14 March 2014 – DOKSHOW  @ Numa (BO)