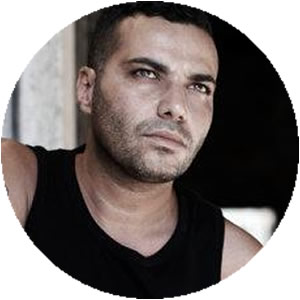 IDRISS D   (Memento)
Di origine franco-algerina, Idriss, deve la sua passione e la sua professione al Dj Mc Brown, suo migliore amico, che quattordici anni fa gli regalò la prima valigetta di dischi e due giradischi a cinghia con pitch a rotella.
Idriss inizia l'attività artistica già a sedici anni suonando ai parties e nei primi discopubs; l'amica Cristine lo introduce quasi subito in uno dei locali più esclusivi di Parigi il "Caffè Le Paris": l'emozione e la gioia di Idriss è tale da faticare anche solo ad appoggiare la puntina sul disco.
Seguono una serie di prestigiosi locali come il "Duplex", l'"Hilton", il "Buddha Bar" a Siviglia, fino alla consacrazione ufficiale proprio con il "Les Folies de Pigalle" di Parigi, club cult, tra i più conosciuti ed amati a livello mondiale. Quest'ultima esperienza gli apre definitivamente le porte al mondo dell'House.
L'arrivo di Idriss in Italia quattro anni fa nasce dall'esigenza dell'artista di sperimentare il mercato e il sound del Bel Paese. Il primo approccio è con locali di tendenza ma d'impronta fashion: "Bambu", "Duende", "Caffè Borsa", "L'Atelier", "Soul Kitchen", "Burfys". Successivamente, grazie ad un innato carisma nonché selezione e tecnica musicale, Idriss sale in consolle house prestigiose: "Red Zone", "Black Hole", "Madame Butterfly", "Tenax", "Kill Cream Boath" e "Movida".
Non solo ha ottenuto un grande successo suonando nei club, ma è anche il proprietario di alcuni brand di nuove etichette. Una di queste, gestita con il suo amico Fabrizio Maurizi, si chiama "Memento" e ha poi aperto l'agenzia di booking e management Db artists.
Idriss D's approach to music started when he was just fourteen: he got his first turntables and his friend Nadir was a huge influence artistically and helped the young talent to develop his taste and personal vision.
After moving to Italy, he quickly established himself among the biggest names in the game thanks to his mixing skills, his unique style and drive, and to his hypnotic dance vibes that led him to widespread acclaim in the country's nightclub circuit and to play at some of the most renowned venues such as Echoes, Cocoricò and Red Zone.
Beside actively working as a dj and enjoying ongoing success and recognition, Idriss manages some of the most respected record labels in Italy: the world-famous Memento, along with best friend and musical soul brother Fabrizio Maurizi, the experimental Aloe and Db Artists Musique.
He is currently resident at Cocoricò Riccione and Amnesia Milano, which rank as some of the most popular clubs on the European scene. His impressive tour schedule has brought him to dj at Berlin's historical Tresor, Barcelona's Club 4, super-famous Space Ibiza and Pacha as part of the Cadenza Vagabundos concept(summer 2012). A string of gigs in some of the cutting edge underground clubs like Mad lausanne and Nordstern Basel followed shortly.
Idriss D also rose to stardom as an artist manager by founding db Artists with the main goal of booking international djs and breakng into Italys' nightlife and party culture. Backing up new and upcoming producers and providing them with large-scale tours and studio help on the studio side also is a major strength of the organization.
Beginning its collaboration with Paris Freak'n'Chic Agency, T Agency and Orbeat Bookings, db Artists soon became exclusive partner for Clonk and Minus, and more recently has started representing Cadenza, the most acclaimed label nowadays, lead by renowned top dj Luciano.
DOK DATES:
– 15 March 2014 – DOKSHOW  @ Numa (BO)
– 21 March 2015 – DOKSHOW  @ Numa (BO)