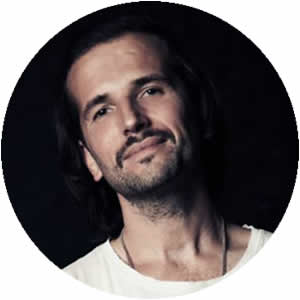 VALENTINO KANZYANI   (JESUS LOVED YOU / CADENZA Slovenia)
Valentino Kanzyani is a founding father of Slovenian techno and has been involved in the country's dance scene since the mid 1990s. A celebrated DJ first and foremost, Valentino built a solid reputation for himself whilst he was resident spinner of Ambasada Gavioli, one of Slovenia's most famous clubs. His fame grew when he started spinning on three turntables as standard.
Joining forces with fellow countryman and techno champion Umek, Valentino saw his first release in 1999 under the moniker Recycled Loops. Due to the success of their joint EPs, Valentino Kanzyani and Umek set up Recycled Loops as a record label, which further helped establish Valentino as a major player in Eastern Europe's techno scene. A number of world tours, festival appearances and big club gigs followed.
Whilst Valentino's sound has evolved over the years, he is committed to protecting the art of the DJ with real integrity. Valentino set up his label Jesus Loved You in 2005, for instance, just as digital downloading was becoming the main dissemination channel for the music industry. Instead of joining the trend, Valentino decided to release his label's music mainly on vinyl as a way to support the true original format of the DJ. And it is his love for vinyl that has seen him flourish today, to become one of most
respected underground vinyl djs around.
You can find similar credibility in Valentino's Ibiza-based party project: Next Wave. Set up in 2011 as a way to support the less commercial side of club music on the island, the Next Wave parties have become a resounding success in 2012. The cream of underground house and techno DJs have played for Valentino at Next Wave including many of Romania's new breed of vinyl DJs, and occasionally, masters of the scene like Ricardo Villalobos and Luciano have played extended sets at Next Wave.The upcoming 2013
season is very promising as well including acts such as Soul Capsule, Sonja Moonear, Primiesku live, Sammy Dee, Fumiya Tanaka, Thomas Melchior live, Cabanne & Margaret Dygas just to name a few… Be prepared for an overindulgence of incredible music this year!
Through 2012, Valentino released a series of Eps on Cadenza in the build up to his debut artist album 'Love & Gratitude'. The latest EP as well as a continuous mixed cd which includes all tracks from the project was released in April 2013. The project showcases Valentino Kanzyani's underground house vision and it also represents a new chapter in Valentino Kanzyani's career – as part of Cadenza's booking agency.
He is currently travelling for his "Love & Gratitude" Album Tour, his track "Bobby on Drums" has just been released on the new m_nus MinMAX compilation a few days ago and he has several other exciting new projects coming up this year. Stay tuned : )
DOK DATES:
– 22 February 2014 – DOKSHOW  @ Numa (BO)