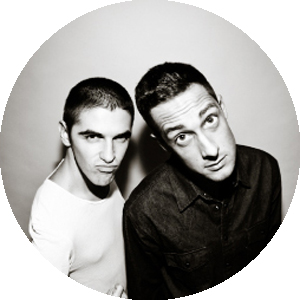 DIRTY CHANNELS  (Ovum / Culprit / Manocalda)
I Dirty Channels sono Simone e Leme, dj e produttori italiani che iniziano a collaborare nel 2008 quando, dopo un lungo periodo come dj solisti, scoprono di avere un grande feeling musicale. I primi ad accorgersi di loro sono i Pastaboys, che producono le prime tracce sulla storica label italiana Manocalda. Segue così una lunga serie di uscite e remix per etichette come Rebirth, Reincarnation, Bcbtec… sempre supportati da artisti internazionali.

Attraverso le recenti produzioni per labels rinomate come Hot Waves / Hot Creations (di Jamie Jones), Ovum (di Josh Wink) e Culprit LA, i Dirty Channels si assicurano un posto in prima fila nelle classifiche di Beatport e Resident Advisor, oltre ad essere inseriti nelle playlist di dj come Pete Tong, Kerri Chandler, Maya Jane Coles e molti altri.
Ispirati da diversi generi e artisti, i brani dei Dirty Channels sono caratterizzati da una miscela di suoni deep, old school house, disco e techno detroit. Le varie influenze musicali trovano riscontro anche nei dj set, molto eclettici, mai banali e con molta attenzione per la pista. Per questo motivo si stanno esibendo nei migliori club ed eventi europei.

Sono in arrivo molte novità per il futuro, rimanete collegati su Dirty Channels… il meglio deve ancora venire!
Italian based djs and producers Dirty Channels are Simone & Leme. They started working together in the early 2008 when, after a long period as single djs, they discovered a great musical feeling. Their debut on the historic italian label Manocalda brought up their collaboration with Pastaboys and proved to be an essential introduction for these guys, with releases and remixes with various labels such as Rebirth, Reincarnation, Bcbtec… always supported by big international artists.

Dirty Channels recently released for renowned labels like Jamie Jones' Hot Waves / Hot Creations, Josh Wink's Ovum and the LA based Culprit. Thanks to these tracks they climbed up Beatport and Resident Advisor charts, and they were included into playlists of top djs such as Pete Tong, Kerri Chandler, Maya Jane Coles and many others.

Being heavily inspired by a lot of artists, Dirty Channels tracks are a unique mix of deep old school house, detroit techno, disco influenced jams, and classic grooves. The variety of musical influences turns into an eclectic dj set, never dull with a great charge perceived and loved by the floor. This is why they're playing in a lot of important European clubs and events.

Dirty Channels are working on hot new productions for the future, so stay tuned… the best is yet to come!
DOK DATES:
– 01 January 2016 – DOKSHOW @ Numa (BO)