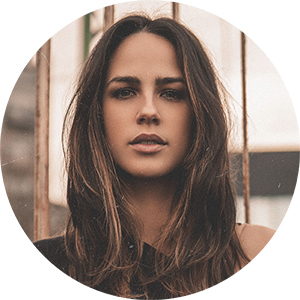 BRINA KNAUSS   
Brina Knauss si é saputa imporre in breve tempo come una delle più interessanti novità della scena elettronica.
Nata in Slovenia, dedica grande spazio alla musica già in tenera età con lo studio del pianoforte. A soli 17 anni debutta nel mondo della dance come cantante della band femminile BBT, con cui guadagna una travolgente popolarità in tutto il paese. Terminata l'esperienza con questo gruppo, a 21 anni si trasferisce a Milano dove inizia la sua carriera di modella: una professione che non la distoglie dal viscerale amore per il clubbing e la conduce ad abbracciare l'arte del djing proprio in occasione di eventi legati alle fashion week.
Il suo talento in consolle ottiene una prima consacrazione nel 2013 con la residenza per le serate Stardust by Clubhaus – campo di gioco di artisti del calibro di Solomun, HOSH, Sven Vath, Dennis Ferrer, Andrea Oliva e Maya Jane Coles – mentre parallelamente si intensifica il suo calendario di serate in Italia e all'estero.
Tra i locali più affezionati al suo sound figurano Peter e Villa Delle Rose di Riccione, Raspoutine Rome, Phi Beach di Baja Sardinia, Ambra Night di San Teodoro, Cirkus di Ljubljana, Byblos di Porec, Buddha Bar di Budapest senza dimenticare le apparizioni ibizenche presso Destino, Ushuaia, Ibiza Downtown by Stardust e le session estive su Ibiza Global Radio.
Carisma, inesauribile energia e grande padronanza del dancefloor sono alcuni degli ingredienti alla base del successo che l'uragano Brina ha raccolto in oltre 100 serate solo nell'ultimo anno.
Il suo stile musicale spazia dalle sfumature più deep ed intriganti della house fino a lambire sferzate di techno melodica: un intenso viaggio sonoro che la Knauss ha recentemente offerto anche in celebri club oltreoceano come Provocateur ed Electric Room di New York, per la serata di culto Hights di Stoccolma ed sul palco del Big Spring Break Festival di Umag.
Brina Knauss's style is distinctive and her selection can be easily recognized. It can be described as: Very intense Deep/Tech/Melodic.
Brina Knauss started her music career in Slovenia as a singer in a girl band B.B.T. After the hiatus with girls she moved to Milan, where she started a modeling career.
Brina couldn't stay away from music for a long time so she started to DJ at friend's house parties and eventually by 2012 she got her first gigs in Milan's clubs and at important fashion events.
In 2014/2015 Brina became resident at Stardust (www.facebook.com/stardustbych80s) where she opened for H.O.S.H., Solomun, Adriatique, Dennis Ferrer, Maya Jane Coles, Magdalena.
2015 sees Brina in Ibiza as resident at Ushuaia's B&B event in Downtown and since then has been a regular guest at Ibiza Global Radio.
In 2016 Brina had 95 club gigs plus many corporate shows. She played in Italy, UK, Ibiza, Slovenia, Sweden and USA.
(Source: RA)
DOK DATES:
-31  October 2018 – DOKSHOW  @ Numa (BO)