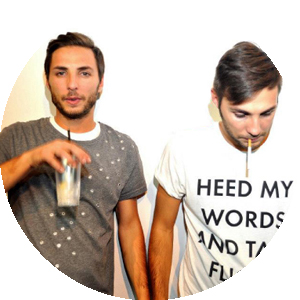 DNArt
Francesco e Luca Gori (in arte DJ Frankye e DJ Lukers) nel 1999 danno vita al progetto "DNArt". La passione e la sfrenata voglia di ricercare nuove sonorità li spinge fin da giovani ad entrare nel mondo della musica…e' infatti dal 1999 che suonano i propri vinili in centinaia di locali sparsi per l italia e nn solo, per citarne alcuni Gemelli , di nascita, creano ormai da anni innumerevoli e coloratissime atmosfere musicali.Capaci e dotati di un gran gusto musicale sono in continuo movimento e collaborano tuttora con prestigiosi locali/discoteche Attualmente sono in contatto con alcune case discografiche , in procinto di stampare i loro progetti.
DNArt project was born in 1999 … Francesco and Luca Gori "the twistin' twins" dj Frankye and dj Lukers…
Since 1999… playing their vinyls in faboulous clubs and famous discoes … Italians places and more like Doc Show, Rashomon, Peter Pan , Cocoricò , The Egg , Be Cool , Festival della Creativita', Viper teatre , Tabasco , etc…
Walkin' bass, sweet guitars… Great sound inside… and musical atmosphere around…
Actually in collaboration with "records edition" and ready to start and realize his project.
DOK DATES:
– 20 April 2014 – DOKSHOW @ Numa (BO – Italy)