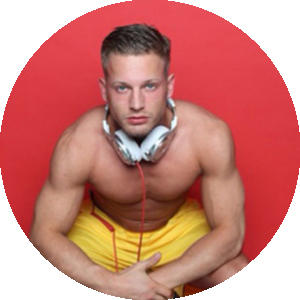 ALEXIO
A promising newcomer in the world of turntables Stars in Frankfurt can circle the plate.
Federico Maniscalco aka DJ Alexio was born on 14/09/1988 in Tagliacozzo in Italy.
Very soon he discovered his love to the music particularly for house music with a focus on progressive and tribal
His first club experience was at CK's studio in Frankfurt am Main,
now being considered in which he soon became the resident DJ.
He impressed with his style especially the two successful CK-Studio Events "KillerCow" and ALTE HÖLLE 5 and "Pleasure XXX" .
Meanwhile he plays in all important clubs overall in europe, like GMF Berlin, Splash Roma, Ahh Club Zurich, 136 Grad Hamburg, Circus Vienna, Gay Röhre Stuttgart, Connection Berlin, OMG Party Prague , La Troya Party Cocoon club FFM , Bel Ami Club Mannheim , The Block Party Bologna , etc.etc.
In fall 2012 he will have his first performances in Melbourne and Sydney/Australia .
He got the first international attention with his nomination to the bestDJ's performed by Maximum Music Experience.
Federico aka DJ Alexio is not only young and incredibly attractive, but also a DJ who always on the pulse grooves at the time.
Experience it LIVE. In your club. At your event……