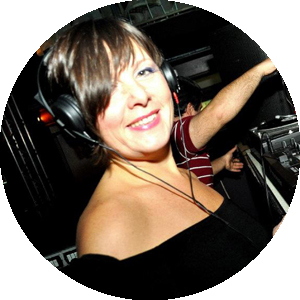 LE.T
Classe 1962, radio speaker e dj per passione, dal 2007 inizia a girare vinile in lounge bar locali esprimendosi con dj set eclettici influenzati dal jazz e soul , mescolando l'elettronica ricercata downtempo con blacktronica ,il funk e rare groove con il pop e la new wave , il new jazz , col la deep house più' ricercata .
Da diversi anni la grande attenzione rivolta al panorama musicale e alle sue nuove tendenze emergenti assieme al grande amore per il dancefloor e alla clubculture , sono la spinta propulsiva dei suoi dj set house dal sapore bass .
Le.t e' anche ELLESOLO assieme a una serie di giovani produttori membri del collettivo SOLID crew e contribuisce alla crescita di una realta' più' underground promuovendo serate dubstep e supportando con dj set di apertura artisti del calibro di Pinch ,Hatcha ,Kromestar.
Dal 2011 assieme aYULIA giovane produttrice ucraina forma le Basslyness , una formazione femminile al 100% e risveglia il popolo della notte con un suono carico di bassi e di bpm con Nina Kraviz , Tasha Rush e Silvie Loto nella passata edizione di HALLOWOMAN
Le.t
Born in 1962, speaker and radio DJ for passion, from 2007 starts spinning vinyl lounge bar speaking with a local dj sets eclectic influenced by jazz and soul, mixing electronics with blacktronica sought downtempo, funk and rare groove with pop and new wave, the new jazz, deep house with the most 'sought after.
For several years, great attention to the music scene and its emerging trends together with great love for the dancefloor and clubculture, are the driving force of his dj set house bass flavor.
Le.t aka ELLESOLO together with a number of young producers is a member of SOLID crew collective ,and contributes to the growth of more underground scene of dubstep nights promoting and supporting with a DJ set by openings the likes of Pinch, Hatcha, Kromestar.
Since 2011 together with the the young Ukrainian producer Yulya ,form Basslyness, training women to 100% and awakens the people of the night with a sound loaded with bass and high bpm with Nina Kraviz, Tasha Rush and Silvie Loto in the last edition of HALLOWOMAN